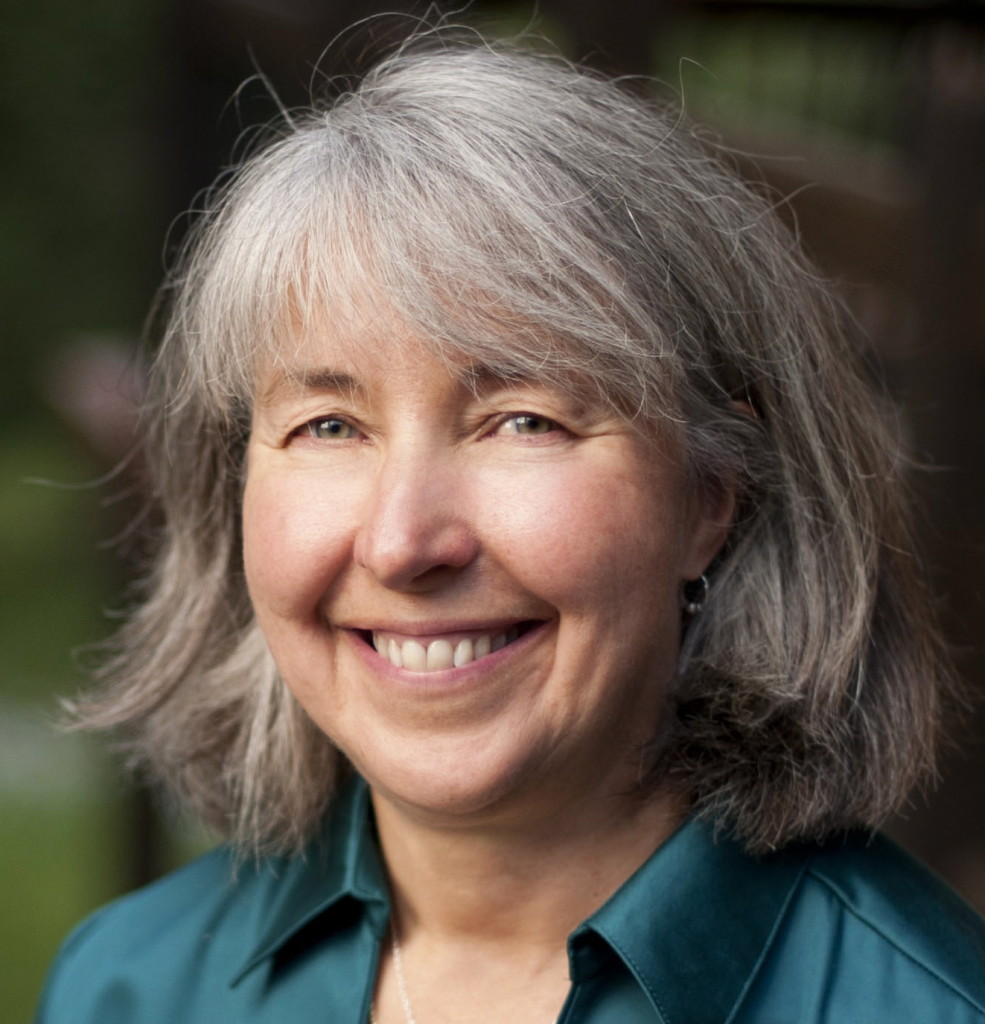 I'm Dr. Karen Wyatt, creator and host of End-of-Life University. If you are looking for information about death, dying and the last stage of life, you've come to the right place. You'll find lots of resources here, no matter what your needs may be.
As a former hospice medical director, I've spent most of my career focusing on these challenging times of life. I understand what it's like to be a patient, family member, caregiver, and healthcare provider when dealing with life-limiting illness. And I know what it takes to meet those challenges face-to-face and still find meaning, joy and love in life.
Keep reading and learn about the motivation behind End-of-Life University, then discover how you can become part of this growing movement to improve end-of-life care in our society!
Face Your Fears. BE Ready. Love Your Life.
Why End-of-Life University?
As a physician I have seen firsthand that our medical system currently fails to provide compassionate, reasonable care at the end-of-life. Doctors are not trained to address death and dying issues and question whether or not it is their "job" to manage the dying of patients when they are also expected to work tirelessly to help "save lives."
Patients are ambivalent about these discussions too and may send mixed messages to their families and care providers because they have never before thought about their own dying process. Consequently, far too much of the healthcare dollar in the U.S. is spent on futile care that does not add to quality of life, but may well prolong suffering.
There is a desperate need for education in our society about all aspects of the end-of-life, from the importance of advance directives, to care options for the dying, funeral and burial alternatives, and grief and bereavement assistance for loved ones. The goal of End-of-Life University is to provide multiple access points for educational resources about death and dying that can reach all interested members of our society–from lay people to professionals, youth to elders–through interviews, articles, podcasts, videos, and teleseminars.
In addition, EOLU serves as an information hub where providers in one discipline of care can connect with other workers in their own field or learn about current practices in other areas of end-of-life care. The entire movement grows stronger when we can network and build bonds between us. Listen to this sampling of some of the experts interviewed on EOLU:
What To Do Next
Sign up for the End-of-Life University mailing list
When you join our mailing list you'll receive an email each week telling you whenever a new podcast episode is available for listening. You'll be able to listen any time on the podcast webpage or on the podcast app you use on your phone. You'll also receive information about special events that take place once a year like Webinars, Workshops, and the online reading group A Year of Reading Dangerously.

Click here to sign up for the mailing list.
Download the Action Steps Handout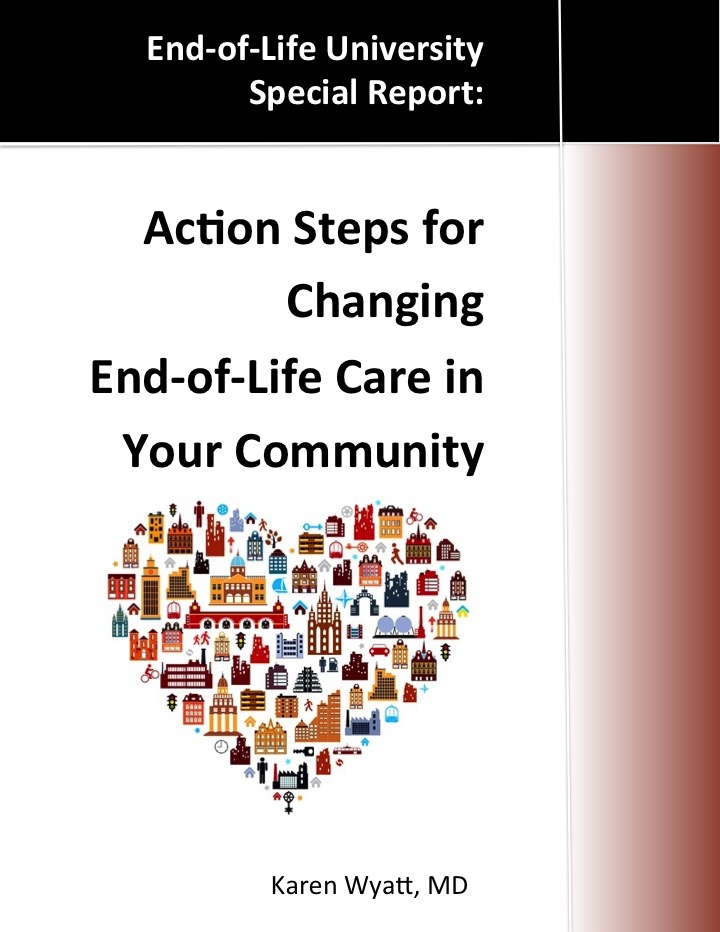 This FREE handout covers 16 different action steps you can take to improve end-of-life care in your community. It includes links to various resources online and recommendations for getting started in your own town if you would like to support the end-of-life movement where you live.

To transform the way people die in our society requires effort and action from each one of us. This handout will help you see where you might be able to make a difference in your community.
Click here to download the file.
In addition you can listen to a podcast episode about these action steps using the audio player below:
Check out my book!
7 Lessons for Living from the Dying: How to Nurture What Really Matters

In this book you'll discover the lessons I learned from hospice patients that helped me LOVE LIFE again after the suicide death of my father.
"Dr. Karen Wyatt practices medicine as she lives – with courage, humility and an open heart. In caring for people who are nearing life's end, she finds essential truths and reveals what really matters. The lessons she offers are a gift of enormous wisdom."
—Ira Byock, MD
author of Dying Well and The Best Care Possible
"For many of us what life is about and what really matters doesn't become reality until we accept our mortality. Karen Wyatt has learned from her life and work about what really matters and her book of lessons is filled with the words and lessons of wisdom a life coach would share."
—Bernie Siegel, MD
author of The Art of Healing and A Book of Miracles
"7 Lessons for Living from the Dying is one of the best books I've ever read on end-of-life issues. I love every chapter! Each section offers extraordinary stories and practical information."
—Nancy Manahan, PhD author of Living Consciously, Dying Gracefully: A Journey with Cancer and Beyond
Subscribe to the End-of-Life University Podcast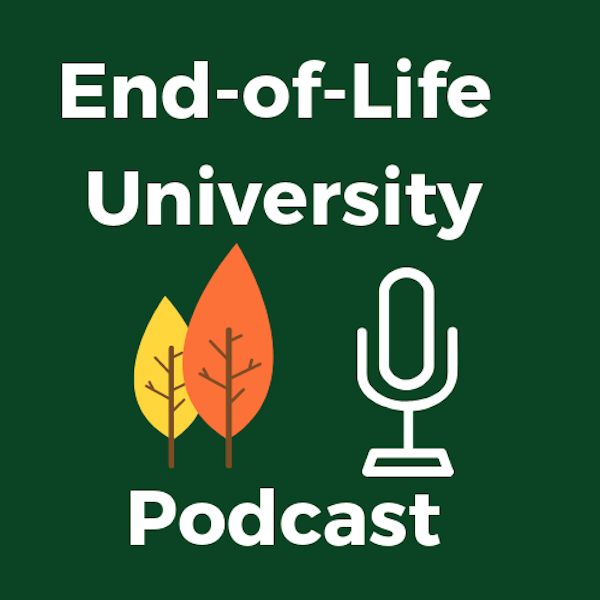 If you enjoy listening to podcasts on your phone or in your car, you'll want to check out the EOLU Podcast. A new episode is posted every Monday and you'll hear fascinating interviews as well as timely discussions about important end-of-life issues.
Connect on Social Media